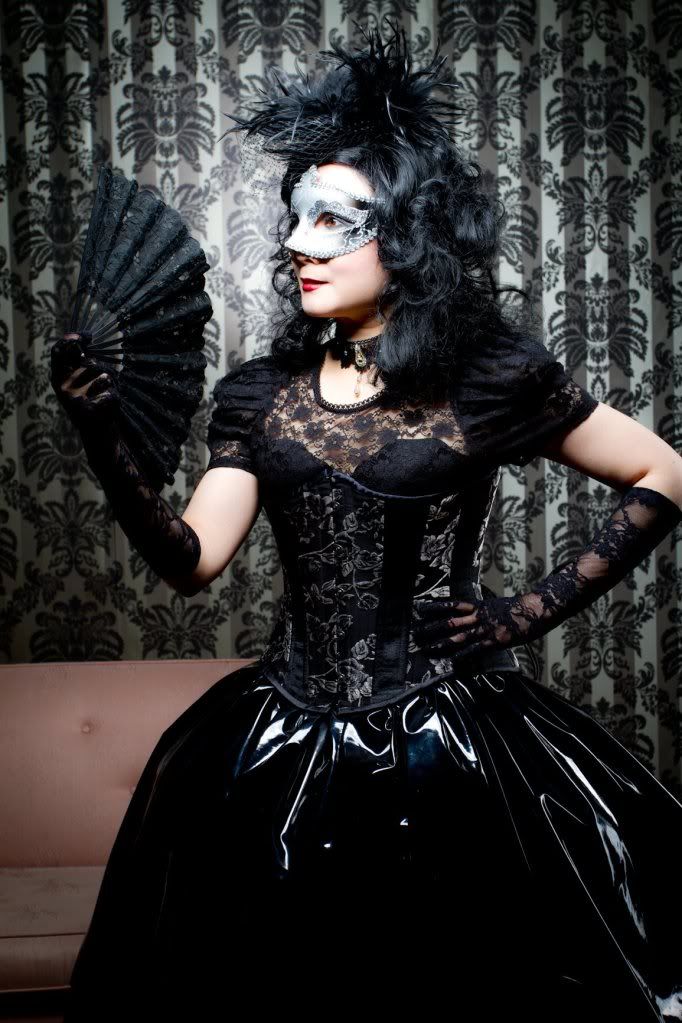 (2nd Merciless Model - March 20, 2011)


Born and raised in Winnipeg , MB , Canada , Joan is a Mature Published , Professional Alternative Model , with over 20 years of modeling experience. She began amateur modeling at the age of 18 , in the Petite mainstream genre , but realized that her Gothic / Punk rock lifestyle , love of the music , lifestyle , and fashion , was her " True Self" , and made the transition to Alternative Modeling in her mid-20's.
She was also in a Punk rock band called "The Strange Neighbors" , from 1983 to 1988, singing vocals and playing keyboards.
Her love of Alt Fashion , and being in front of the camera since 18 years of age , gives her her true sense of creative expression in photographic art and modeling!
Her favorite modeling genres are : Goth , Punk , Metal , Victorian , Steampunk , Visual Kei, Lolita, Glam , Fashion , Cosplay ,and Fetish.
Now at age 45 , she works hard to keep herself in good shape , and plans on modeling for as long as she possibly can! : ) It is still a great passion of hers , and she loves every minute of it! She is currently a member of Goth/Industrial Band , Groit! (Keyboardist)
She is now a featured model for Alternative Models by Entity International , as well as Gorgeous Freaks , Curvy and Rocker Pinups , Peroxide and Garlic International Alternative Models , and now an Online Cherrystems girl! ( an erotic Photo Website).
Alternative fashion sites where her photos can be found are : Ms Purdy on Etsy , Retroscope Fashions , Supervixens Boudoir Photography , Recollections, Art of Adornnment, and De Poppenkraal. She will be featured this year on Hungover Empire Clothing, Blanche's Place, JupiterStorm Upcycled Jewelry , and Ruffles and Stripes!
Joan is available for photo shoot bookings on a flexible schedule and compensation basis! (TF included!)



RECENT WORK AND PROJECTS:


Joan V is published in the following Alternative Magazines:
Carpe Nocturne at:
http://flipflashpages.uniflip.com/2/26590/69656/pub/index.html
- Page 151, Fall Issue , 2010.

EGL Magazine - Sept. 11, 2010 at:
http://www.egl-magazine.co.uk/#/joan-v/4543520832

Interview and Photos on fiXE magazine on Monday, October 4 , 2010. Link:
http://www.fixemagazine.com/post.php?postid=925

Goth Girl of the Week Online Magazine : Featured Goth model for October 30, 2010 at:
http://gothgirlweek.blogspot.com/2010/10/feature-stiletto-13.html

Alternative Mayhem Magazine (February , 2011 - Issue #2) - Cover and Featured Model
http://alternativemayhem.com/AlternativeMayhem.com/Models.html

Soon to be featured on : Voltcase Online Magazine (Issue pending) , Sublime Rush Magazine (Apr., 2011 - Issue 07), Alt Fashion Magazine (UK) - Spring/Summer Issue - April, 2011, and FaceOn Magazine (Issue pending).
Published on various Alt Fashion Websites : Recollections , Retroscope Fashions, Art of Adornment , Supervixens Boudoir Photography , Janzen Photography's website, De Poppenkraal Gothic Accessories, Ms. Purdy's Treasures, Chicstar.com. ( See Facebook Info - Fan Page , and Model Mayhem sites for links , photos, etc.


On February 1, 2011 , Joan V won Alt Fashion Magazine's Year-End Poll and was Voted Top International Alternative Model for 2010! - Link:
http://www.altfashion.co.uk/int-model-2010.html


Joan is featured on the online Goth/Industrial Website , Ogremind , here:
http://www.veddma.com/ogremind/index1.html


Model Mayhem:
http://www.modelmayhem.com/1268075


Website:
http://joanvaltmod.carbonmade.com/


Facebook Fan Page:
http://www.facebook.com/pages/Joan-V-Alternative-Model/133149543399885